The sea cucumbers from Guam
Maybe more than any other island in the tropical Pacific, Guam has been the site of many studies about its sea cucumbers. For instance, Guam is the type locality of common Indo-Pacific species described by early sea cucumbers workers, Quoy & Gaimard and Brandt.
In 2010, we organized a training workshop on sea cucumber taxonomy in Guam where we brought together specialists and students. It was the perfect place for this kind of activity as we had access to the facilities of the Guam Marine Lab, we knew the island very well, and there was more than enough species available to illustrate the morphological variation in sea cucumbers for training purposes. Indeed, in 2003, my advisor summarized the known species for the island and the list added up to 47 species (including a doubtful record).
During the workshop we went to the field during the day, at night, and explored a variety of habitats with snorkeling and SCUBA. After a week, when we tallied up the numbers, we had collected 40 species. When we compared it to the list from 2003, we were quite surprised to find that many of our records were new for the island. Following the workshop, Alex Kerr's lab (who calls Guam home) found a few additional species and the number of known sea cucumber species in Guam is now 65.
The increase in known species over the last 10 years has two main origins. First, with genetic data and a comprehensive re-assessment of the nomenclature which were made available through the PEET project, we unraveled several cryptic species complexes and added about 8 species to this list. Second, and more importantly, increased sampling effort and further scrutiny, contributed the most to the faunal list. Eleven of the 65 species are known from a single specimen, so even though sea cucumbers are large bodied organisms, there are probably more species to be found and much to be learned about the fauna.
You can read the full article here. It is published in a special issue of Cahiers de Biologie Marine that includes the proceedings of the 14th International Echinoderm Conference.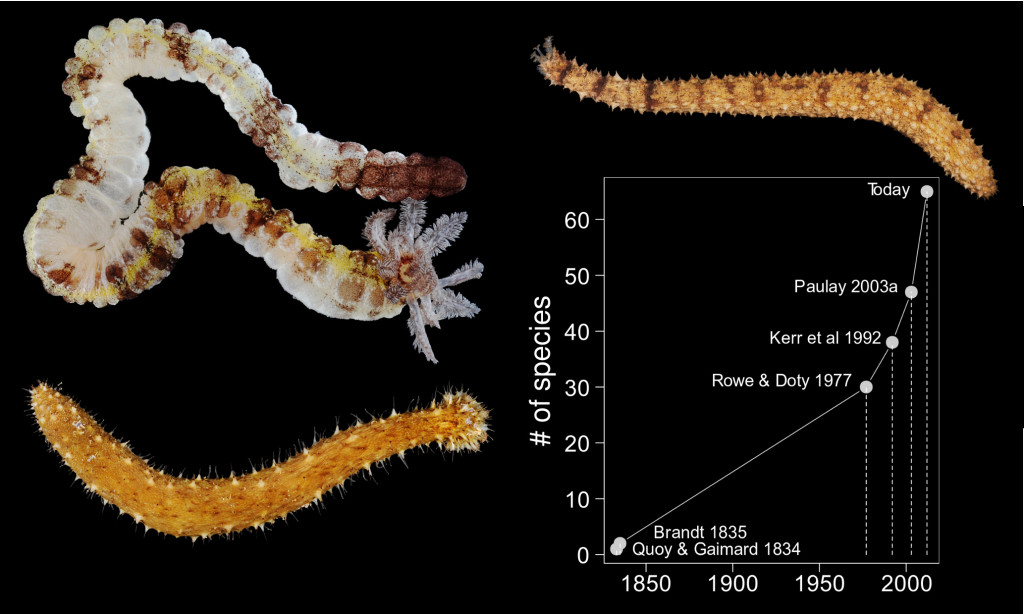 The littoral sea cucumber fauna from Guam - a diversity curve that still does not asymptote -- Euapta tahitiensis (top left), Holothuria olivacea (bottom left), Holothuria aff. impatiens (top right), The diversity curve for the sea cucumbers of Guam (bottom right).
Below, you'll find the (high-resolution) images (released under CC-BY-3.0 license) that are being used in the paper (and a few more).